The long-awaited premiere of Apple's new products took place at the WWDC 2023 conference. We saw a lot of gadgets: MacBook Air 15″, Mac Pro on M2 Ultra, updated Mac Studio, and, of course, AR glasses Vision Pro. I will talk about all of these devices in future articles, as well as new versions of macOS, iOS, WatchOS, and iPadOS. But today's review is dedicated to the coolest, in my opinion, device — the 15-inch MacBook Air!
Why is a 15″ screen on a MacBook Air cool?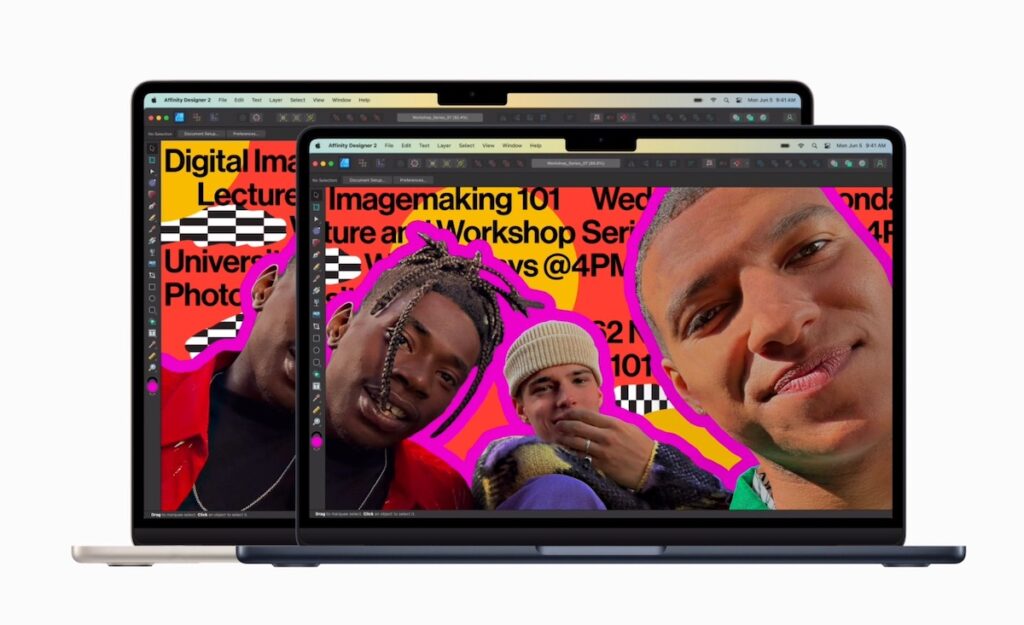 While watching the presentation, I was somewhat shocked. Yes, I know that Apple laptops with 15-inch displays have not been available for a long time. But it was a pleasant surprise that the Air picked up the baton. In general, for me, as for many others, was the incomprehensible policy of the company, which was removed from the line of medium-sized laptops. Instead, they were offered only 13, 14, or 16 inches. And as practice shows – it is either not enough, or already too much. "Fifteen" has always been in high demand, because these dimensions are optimal for carrying in the bag and working on the table. But now, Apple has finally realized its mistake and returned the familiar format to its place.
During my "friendship" with Apple technology, I have worked with various laptops. And each of them has its advantages and disadvantages. For example, small 13-inch Air and Pro – are very convenient and mobile, suitable for those who travel a lot, used to working outside the home or office. Large 16-inch machines are ideal for professional activities, but due to their unwieldiness are difficult to carry. You can also think of MacBook Pro 14, it is some kind of alternative. But still, something is missing. Therefore, a 15-inch screen – is the best! This is the universal size, which is equally comfortable in different environments.
MacBook Air 15 M2 (2023) Overview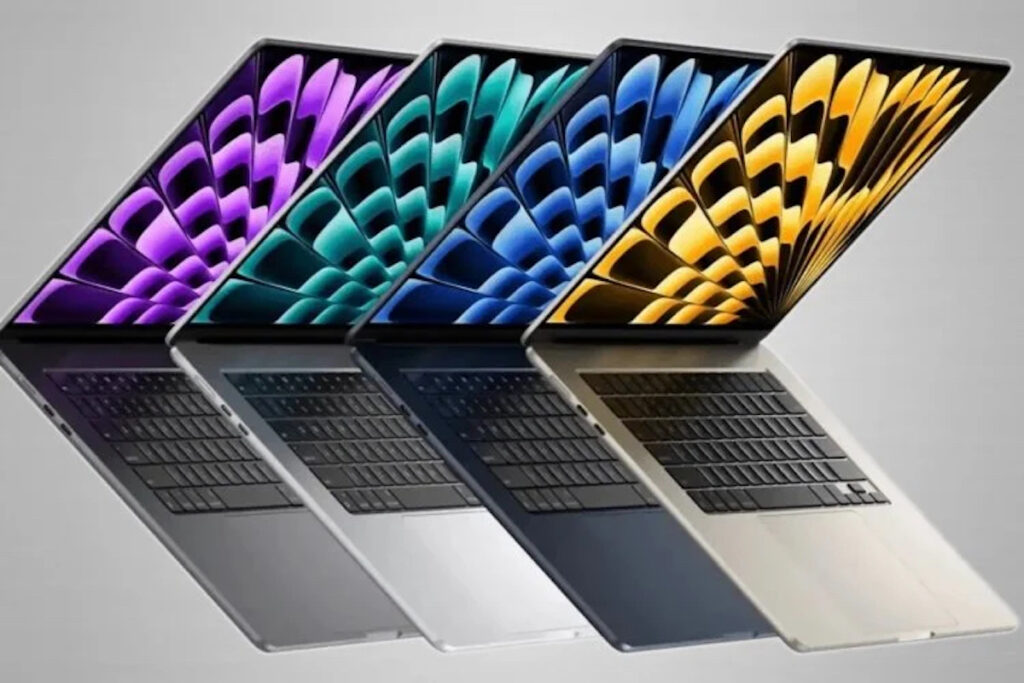 So, what does the new product look like? It differs from the previous generation only in the size of the display, without taking into account other minor improvements. The design remains the same, as well as the colors: Silver, Starlight, Space Gray, Midnight. At the same time, despite the increased size, the thickness of the body is pleasantly pleasing, only 1.15 cm. At the moment – it is the thinnest and lightest (1.51 kg) laptop Apple with a screen diagonal of 15 inches of all released earlier. The physical size is 1.15 cm x 34.04 cm x 23.76 cm (fits nicely in a bag or backpack).
More about the display. As already mentioned, its diagonal is 15.3 inches (Liquid Retina), and it is created using modern LED-backlit display technology with IPS. Resolution: 2880 by 1864 pixels, brightness of 500 nits, P3 wide color, support for True Tone. So, except for the increased viewing area – the other parameters are identical to last year's MacBook Air 13″ 2022. This is even good, as the screen is high quality and does not cause any complaints.
And what about the hardware? Here the changes are less, or rather they are absent at all. Except that the M2 processor is offered only in one variant with 10 graphics cores.
Technical Specifications
Chip: Apple M2 (8 cores).
Graphics: 10-core.
RAM: 8, 16, 24 GB (100GB/s bandwidth).
SSD capacity: 256GB, 512GB, 1TB, 2TB.
Ports and connectors: MagSafe 3, 3.5 mm audio, two Thunderbolt / USB 4.
Lithium Polymer Battery: 66.5-watt-hour.
Battery life: Up to 18 hours.
Charging adapter: 35W Dual USB-C (with 70W charging support).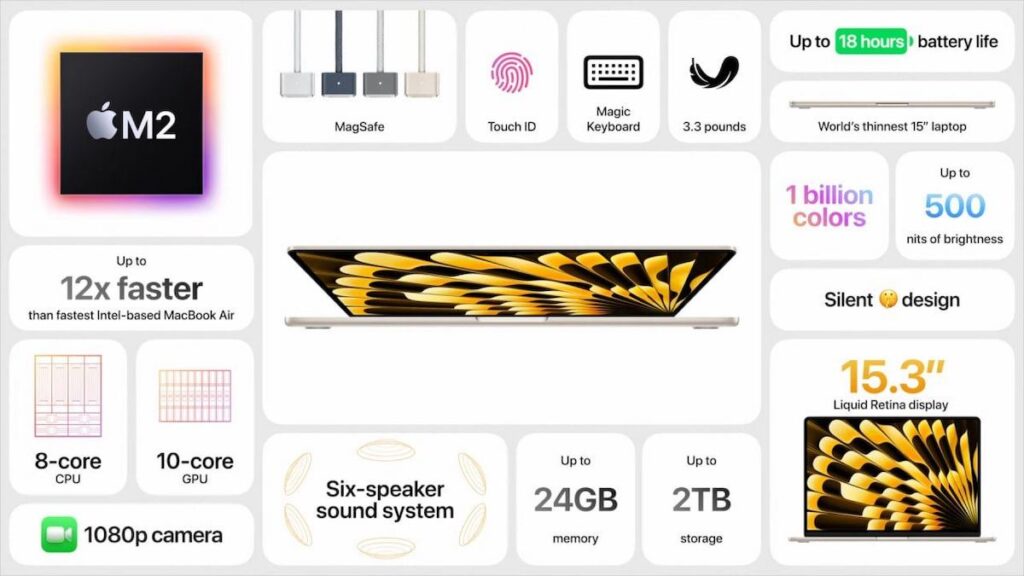 About the built-in camera, keyboard, and trackpad there is nothing to tell, they are completely the same as in the previous model. From the interesting features, I will note that the new MacBook Air has 6 speakers instead of 4, which will theoretically improve the sound, although it was already excellent.
Instead of conclusions
Any summary of the novelty will be subjective, but I will share my own opinion. It seems to me that the new Air 2023 will quickly and firmly occupy its niche, finding a large number of fans. It is the lightest, thinnest laptop Apple, with an optimal display diagonal of 15 ". The modern chip M2 provides excellent performance, which is enough for both office work, study, and complex work in professional programs. At the same time, the attractive design and the choice of colors, you can choose the body to your liking. It is also important that the price for the novelty is more than democratic, in the official store it starts from 1299 dollars for the basic package.